Pros:
They are a great example of old Hollywood vintage fashion. British Actress Audrey Hepburn popularised these shoes in the 1950s.
Audrey Hepburn
2. They are also great shoes for tall women who do not want too add to much height to their frame. Actresses like Uma Thurman, for example, come to mind. At 6,0 foot I can't imagine why she would want to look any taller!
Uma Thurman
They are even great for short to medium height people (like me) who like their height the way it is. American Actress Reese Witherspoon is a great example of a short person. She's only 5 foot 1!!!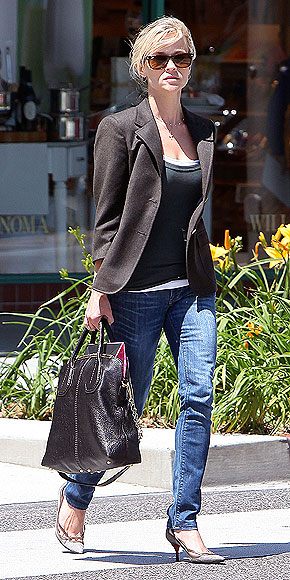 Reese Witherspoon
4.

They are practical. If you wanted to pop down to your local super market, shopping mall or even to work you don't have to worry about backache or twisting your ankle. Hazel Blears an aide to British Prime Minister David Cameron is a great example of what can go wrong with sky scrapper heels!
Hazel Blears
5. You can buy these shoes in any colour, shape or size.
6. You can wear them during the day or at night.
7.
They range from affordable to expensive so it doesn't matter what your prize range is you can afford them. For example, you can buy Kitten Heels from New Look for just £15.99. This price contrasts to Gucci's prices that start from around £200 pounds plus.
8. They are bang on trend for spring 2011!
Kitten Heels at Prada, Fall 2010
Cons:
1. If you are bigger than a UK size 7 they can make your feet look bigger and longer!
2. Watch out for the cracks in the pavement the heel can still easily snap!